2014 Ultimate Blog Party!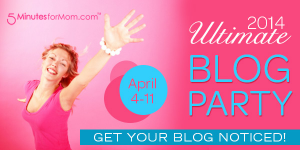 Hello! Do you know what the Ultimate Blog Party is? It is like a big festival sponsored by
5 Minutes for Mom
where bloggers of all kinds meet and greet each other.
For those of you stopping by for the first time – Hello! Thanks for stopping by!
Knitty Gritty Savings is a blog all about saving money and time so we get down to the knitty gritty of what's important!! Knitting.. or well crafting.. whatever you like to do.. but mainly knitting!
Here you will find all kinds of knitting related giveaways, and savings information and tips so you can save cash for your stash!
I hope you enjoy the blog, and please do connect with me on other social media platforms, you will find the links below!
Pop over to the Blog party on 5 minutes for mom too where you can discover other great blogs that might be of interest to you!