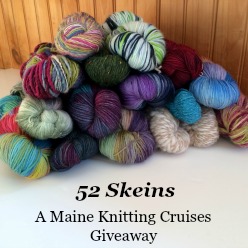 Maine Knitting Cruises (you had me at that) is giving away 52 skeins of yarn in 52 weeks, they are on week 4! Each week they are giving away a skein of yarn on their Facebook page! At the end of the 52 weeks they will give one lucky winner all 52 skeins on top of that!! This is a great way to check out some new and interesting yarns, and have a chance at winning it as well!
This week's yarn is a skein of Spun Right Round yarn!
Click here to enter the 52 Skein Giveaway!
Good luck and if you win, what will you make with it?