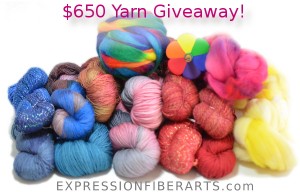 Image: ExpressionFiberArts.com
Expressions Fiber Arts is doing another Yarn Giveaway!
This month the package is valued over $650 in total (WHAT?!) :
1. YARN! Of course…I love giving away loads of my scrumptious yarn.
2. ROVING! Delicious hand-dyed roving for you to learn to spin or felt with.
3. RAINBOW SPINDLE! From A Yarn Loving Mama … Gotta love these!
4. NANTUCKET BAG! An awesome, super sturdy, multi-functional bag from the Nantucket Bagg Co!
Get in on this terrific giveaway!