April Chocolate Yarn Giveaway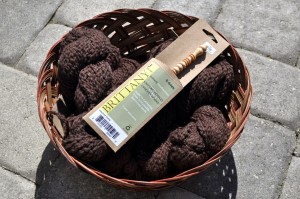 MereKnits is giving away some beautiful yarn!! When I saw the title of her giveaway, Chocolate yarn I got quite excited! Chocolate yarn I thought! yum! Well while not edible these yarns in the giveaway are quite yummy! There are two separate prizes, one for knitters, and one for crocheters but no worries, you can also enter both!
The 'knitting' basket prize has three skeins  of Cascade Yarns Eco Duo and size 10 Brittany birch needles! The 'crochet' basket includes four skeins of Manos del Uruguay (heaven!) and a  Brittany, birch wood crochet hook in size J!
I'm in! How about you?
Contest ends April 10, 2014