ASLANTRENDS 2013/2014 KNITTING CHALLENGE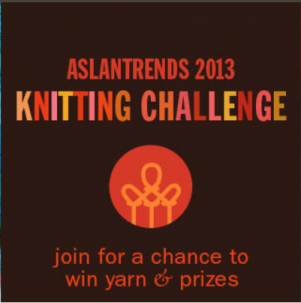 If I didn't have a big project of my own to do I would be entering this one!
Go to your LYS and purchase any AslanTrends Yarn. Knit any type of item using AslanTrends yarns, and send it to them!
Submission Deadline February the 15th, 2014
The grand prize winner will receive $500 worth of AslanTrends yarns, a signed copy of AslanTrends Enchanting Collection by Nicky Epstein, and AslanTrends Seasons Change Knitting books Vol. 1 and Vol. 2. There will also be yarn and book prizes for second and third place winners.
For more details click here!