Beautiful Book Bundle Giveaway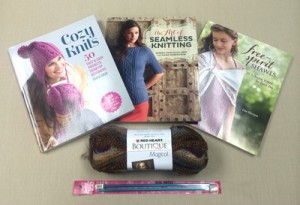 All Free Knitting is giving away 3 Interweave knitting books! One lucky winner will receive one copy of the following tites: Cozy Knits, Free Spirit Shawls, and The Art of Seamless Knitting. Plus, you'll also receive one skein of Red Heart Boutique Magical yarn and a set of Susan Bates knitting needles.
This giveaway ends on March 8, 2015.
Click here to enter the Beautiful Book Bundle Giveaway!
Good luck, and if you win can I borrow the shawl book?