Coupons.com Cash Sweepstakes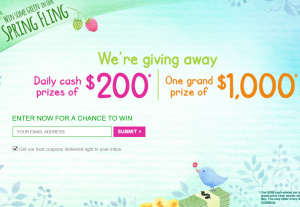 One of my favorite sites for gathering up grocery coupons is having a giveaway!! Coupons.com is having a cash giveaway with daily prizes of $200 Visa gift cards and a grand prize of a $1000 Visa gift card.. That's at least 9 balls of qiviut right? Or a whole lotta Red Heart Super Saver yarn!!
So hey, pop over and get in on it, and if you haven't tried printing out coupons from Coupons.com then check it out while you are there!
Don't forget to enter daily!!
Click here to enter the Coupons.com cash sweepstakes
This sweepstakes ends on May 2, 2014