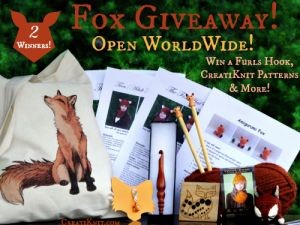 CreatiKnit has put together a huge Fox Prize giveaway! Two lucky winners will receive:
Furls Heirloom Wooden Crochet hook
Eco Fox Tote Bag
any 3 CreatiKnit patterns
Fox Needle Gauge Tool
a pair of Fox Knitting Needles!
Fox Tape Measure
adorable Fox charms
Fox Amigurumi crochet pattern
A skein of Lion Brand yarn in 'Spice'
This giveaway ends on August 14, 2015 and  is open to U.S. and International Residents!  WorldWide!!!
Click here to enter the Fox Giveaway!
Good luck, and hey.. do you know what the fox says?