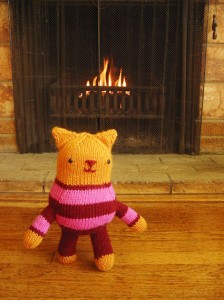 Image: Knitty.com
One of my favorite knitting designers is Jess Hutcherson. And one of my favorite of her patterns happens to be free! Kate the kitty! I have one of these in a pirate version that was knit for me in a swap, and one that I have knit for my cousin.. who needs to come claim her!
You can see the pattern here: Kate Pattern
I hope to start highlighting some of my favorite free knitting patterns, and places I find them! So a few things that will help you out!
If you are not a member of Ravelry.com then, please do hook up, as a few of these free patterns will be there and I wouldn't want you to miss out!
Also if you aren't following me on Facebook please do, as I quite often share free patterns, and giveaway links there that don't make it to the blog!
Hope you are having a great Monday! See you tomorrow!