Georgia O'Keefe Art Immersion Weekend Giveaway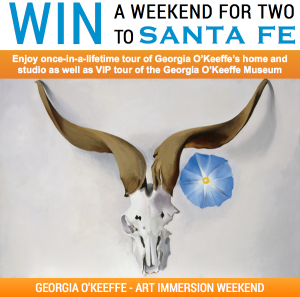 I took an art trip in college and enjoyed it immensely! Here is your chance to win such a trip! 1000 Museums is giving away a trip for two to Santa Fe, New Mexico for an art immersion weekend focused on Georgria O'Keefe
This giveaway is open to all humans age 21 or older at time of entry, but only residents of United States are eligible to enter or win.
The giveaway ends on April 10,2015
Click here to enter the Georgia O'Keefe Art immersion weekend giveaway!
Good luck and if you win and don't have anyone to take with you.. I might be available!!
Share the post "Georgia O'Keefe Art Immersion Weekend Giveaway"