Knitscene's 10th Birthday Giveaway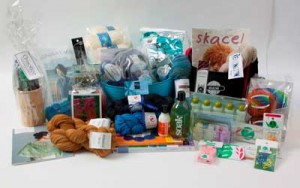 So sorry to be MIA!! The end of the school year, college sign up stuff,graduation, a surprise knitting book project and a trip to Disney have kept us a bit busy!
We should be up to full speed again next week! Thanks for hanging in there and stopping by! (especially those who checked in on us!)
I wanted to pop in quick to let you all know about a huge giveaway by one of my favorite knitting magazines Knitscene! They are celebrating their 10 year anniversary by giving away 10 prize packs.
Check out what is inside:
WOW! I don't know if I have seen a better prize pack to date so you can see why I wanted to spread the word!!
This contest is open to anyone 13 and older (translate that to get your kids to enter for you…LOL!)
I don't know when it ends.. so pop over there fast and get your entry in!
Click here to enter the Knitscene's 10th Birthday Giveaway!