March Craft Madness $500 Giveaway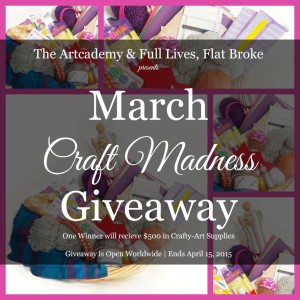 Are you catching a theme here? I did say March was craft month, aye? Well the ARTcademy is giving away a bundle of art supplies that is sure to make any artist sing!!
$500 worth of art supplies will be packed into this prize package!
Here's the list:
(3) Packs of Polymer Clay
20+ Sheets of Card Stock, Handmade Papers, Holiday Stock, etc.
1.4+ Lbs of Yarn (Mix of colors)
2+ Yards of Pink Poly-Satin Print Fabric
1 Yard of Pennington Wool Flannel Fabric
1/4 Yard Hand Dyed Satin
3 Surprise Me! Scrap Bags
Mannequin Bust Pin Cushion
Cupcake Crochet/Kitting Marker Cushion
Crochet Fork
Hand-painted wooden beaded purse hands (ready to attach to a bag)
1 Pink Stow and Go Canvas Craft Bag
Glitter Glue
Basnik Process
2 Spools of Ribbon
1 Quart bag of felt start, 1/4 inch thickness
2 Packs of acrylic paints
1 Reusable gold broach flower pin
So if that sounds good to you then you should pop over and enter! The giveaway ends on April 15, 2015
Click here to enter the March Craft Madness $500 Giveaway!
Good luck as always, and hey if you win and don't want the yarny stuff.. drop me a line!!