Paradise Fibers Choose your Deal!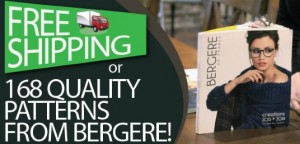 image:ParadiseFibers
I love Paradise Fibers. I have put in quite a few orders through their site and always get excellent customer service and fast shipping! So I have no qualms about recommending them and passing on this deal they just posted!
From their newsletter:
"This week you choose your deal!  Your first choice is free shipping on any order in the contiguous US.  Our free shipping isn't the slow boat method either.  You will receive your order in approximately 3 business days.  For free shipping use coupon code SPRING14.
Your second choice is to add the Bergere de France Book for free to your order over $100.  This book is a $22.50 value! This book is packed with over 150 knitting and crochet patterns for women, men, children and home decoration.  This stylish collection of patterns features a wide variety of Bergere de France yarns and even includes a booklet with a sample strand of each yarn and each yarn color, so you will know exactly what you're gettting when you order the yarn for your project!  We carry all of the items in this book, so you'll know where to find them.  Check out our You Tube video that shows this pattern book in detail. This offer is available for orders over $100 while supplies last.  Add the Pattern Book to your cart and enter coupon code: BDF1314 "

Click here to check out their shop!
Which option will you choose?