Pima Cotton Spring Giveaway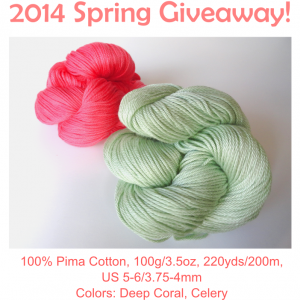 image: Purl Avenue
Spring is a less than a week away (despite the fact that my yard is covered with 2 inches of snow) and I don't know about you but I am ready for Winter to be over with! So what better way to usher in the Spring season than with a fun giveaway.
Well Purl Avenue has just the thing to scare away the winter blues the Spring Giveaway!!
They are giving away two skeins of beautiful Casscade Pima Cotton in spring colors: mint green and coral.
The giveaway entry period ends on  March 17th, so hop over there like a spring bunny and enter!!