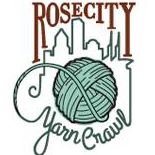 image: rosecityyarncrawl.com
An annual Portland experience, the Rose City Yarn Crawl is a four-day event for fiber enthusiasts (knitters, crocheters, spinners, and felters) to explore the many shops in and around Portland. The yarn crawl is from February 27-March 2!
There will be prizes, and great sales!
If you are lucky enough to be in the Portland area check it out!
For more details click here!