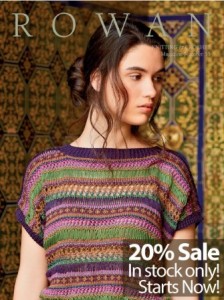 image: ParadiseFibers
If you have not had the chance to play with Rowan yarns here is your chance to get your hands on some at a discount! I highly reccomend Rowan yarns, there hasn't  been one I haven't liked!!
Paradise Fibers is having a 20% off sale on select in stock yarns from  Rowan, Louet, Skacel, SMC, Kollage and more!
Simply use the code VKLIVE14 when you check out!
Click here to check out the sale!
Sale ends Sunday at Midnight!