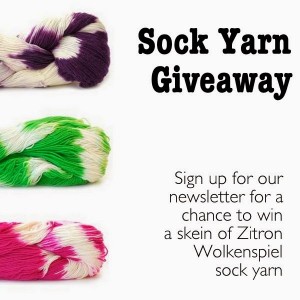 image: Noble Knits
Noble Knits is a site I frequent! I like it! They have some of the nicer sock yarns that I like! And they are giving us all a chance to win some of that yarn!
They are giving away a skein of Zitron Wolkenspeil sock yarn. If you haven't knit with some of the German sock yarns I really think you have missed out on something good!!! Any yarn or product that is in the Skakel collection is top quality in my book!
So pop over for your chance to win some yummy yarn!!
The winner will be chosen this Friday April 11, 2014