SQUAMWARD BOUND : INSTAGRAM CONTEST!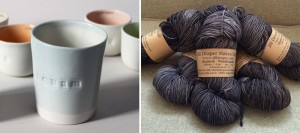 It is my dream to some day attend the Squam Art Workshop Gathering among many other things.. this year there is a little contest for those who are Squam-bound and those like me who are not.
Harrisville Designs, is hosting this INSTAGRAM CONTEST
There are TWO ways to win:
1. If you are an attendee at the June Squam gathering, you are eligible for the:
GRAND PRIZE
10 skeins of Harrisville's Shetland yarn*
+ $350 Squam Art Workshops gift certificate**
You must be present to win– drawing takes place Thursday night, June 5th in the Playhouse right before our Evening with Jared Flood.
2. Good news! You do not have to be an attendee to be a winner! If you left a comment on the winning photograph, your name will be entered into a drawing . .
WIN SIMPLY BY LEAVING A COMMENT!
. . . if selected, you will win:
a beautiful ceramic SQUAM tumbler (hand crafted especially for us by gleena)
+ FIVE SKEINS of gorgeous "woodsmoke" yarn (hand dyed for us by Jill Draper)
This contest ends June 4, 2014