Stampin' up Scrapbook Set Giveaway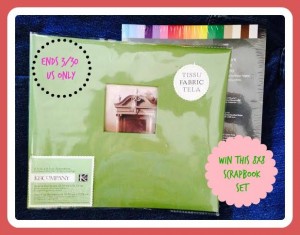 For my scrapbooking readers here is a great giveaway for you! Craftin' with Marilyn is giving away that lovely scrap booking set in the picture above! It's an 8×8 scrapbooking set!
Even if you're not crafty inclined you can do amazing scrapbooks and more with Stampin Up. I love to make cards and do some scrapbooking but I haven't been making time for it. Well it's time to get back to doing things that make us happy and let the creative juices flow! You can win this Scrapbook Set and more. Not only can you win this fun 8×8 Scrapbook set, but you can win many other prizes at Craftin' with Marilyn's FB party on Sunday, 3/30 at 9p est!
Go to the Facebook Party group HERE and request to join.  Be sure to say hi and RSVP on the pinned post!
The giveaway ends on March 30
And don't forget to join the party for your chance at more prizes!