Ultimate Crochet Giveaway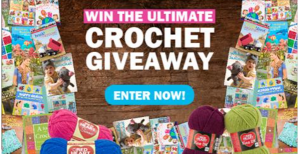 Happily Hooked Magazine is sponsoring a mega crochet giveaway!! The grand prize winner will get 37 crochet books and $500 in yarn from Red Heart! 3 runner-ups will receive 10 crochet books and $100 in yarn from Red Heart!
Not shabby eh?
This giveaway ends on July 25, 2015
Click here to enter the Ultimate Crochet Giveaway.
Good luck as always!