March Into Kohl's Giveaway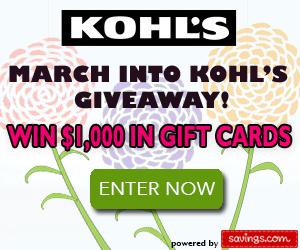 I of course like to add to my wardrobe by knitting pieces, in fact I have a little rule that I shall not buy something if I can knit it! But since I cannot sew, I do like to go shopping at Kohl's especially their Kohl's Gold Star Clearance!
To top it off there is a giveaway to add to your spring clothing budget.. and we all know that less cash we spend on clothes = more cash for our yarn stash!!
Savings.com is giving away $1,000 worth of gift cards to Kohl's! 20 winners will receive a $50 gift card to Kohl's!
This giveaway is open to the 50 United States, for anyone over 18!
The giveaway ends on March 8, 2015 so stop by fast to enter!
Click here to enter the March Into Kohl's Giveaway!
Good luck as always, and if you win we want to see what you get!!