image: KnitCrate
Spring giveaways continue on giving! Enter to win a March KnitCrate full of springy yarns and sweet treats! That indie dyed yarn reminds me of the cherry blossoms in DC! LOVE it! I can't wait for the snow to melt and the flowers to start blooming!
If you haven't heard of KnitCrate this is what they have in every crate: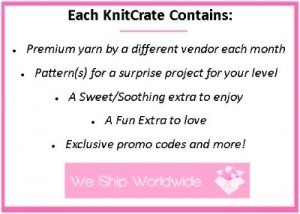 Click here for details on the giveaway and to enter!