Knitless Blog Tour and Giveaway
I am happy to be joining the Knitless Blog Tour introducing the new book Knitless: 50 No Knit, Stash Busting Yarn Projects by Laura McFadden!
Avid knitter or not, many crafters are stuck with stashes of beautiful yarn and too many projects to choose from. I know I always have 'leftovers' from my knitting projects and find it frustrating to find something to do with that yarn that is just too much to throw away, but not quite enough for another knitting project!
KNITLESS is the perfect clever solution for knitters and non-knitters alike. Complete with 50 creative ways to use stashes without ever picking up a knitting needle or crochet hook, KNITLESS is perfect for anyone who wants to create sophisticated projects that aren't too complicated.
From rehabbing old chairs to adding a DIY touch to a plain lamp shade, this book is for any crafter, beginner or advanced. KNITLESS is written for those who love yarn (and have a growing pile!) but don't always have the time to knit. Divided into four chapters, this quirky crafting book features projects ranging from home décor and accessories to gift ideas and yarn art.
There are ideas for organization: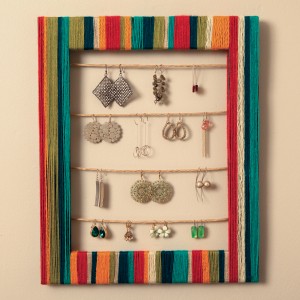 And for your favorite pet!!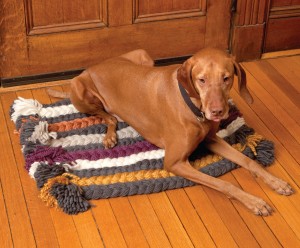 And even something to help me turn an old aluminum porch chair into something fabulous!!
We are also giving away a copy of Knitless to one of our readers! Use the form below to enter!
a Rafflecopter giveaway

Please visit the rest of the stops in the Knitless Blog Tour stops as well:
9/15 Pretty Things
9/16 Midlife Musings
9/18 Knit and Nosh
9/20 ZakkaLife
9/21 Lorelei's Blog
9/22 Recycled Crafts
9/23 Wendy Knits
9/24 Cut Out + Keep
9/25 Think Crafts!
9/26 Our Daily Craft
9/27 The Crafty Princess Diaries
9/28 Delia Creates