Wool and the Gang Labs Contest #4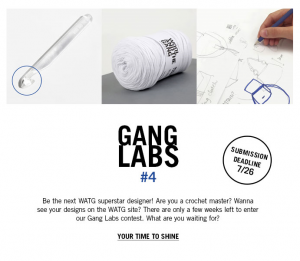 Wool and the Gang is looking for the next great crochet designer. Knowing that's not me, I thought I would pass along the news to you all! If that is you enter our Gang Labs contest for the chance to see your very own design on WATG – and earn 5% of the sales! This time, the design challenge is to create a crochet bag. The rest is up to you.
The challenge ends on July 26, 2015, so if you want in on this think fast!
Click here for details on how to submit your design!
Good luck and remember if you win, let us know!!