Win a Lifetime of Craftsy!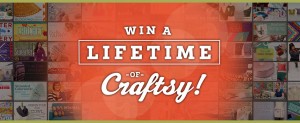 Craftsy is giving away a chance to win FREE Craftsy classes for life! For every milestone they hit from now until May 21, 2014, they'll unlock a new prize and choose a new winner! AND every day, they'll choose one lucky winner for a FREE Craftsy class of their choice!
More details:
The Grand Prize: One lucky winner gets free Craftsy classes for life!
Craft Prize ($500 value each) :One winner will win a craft-related prize valued at $500!
$100 Gift Card + 3 Craftsy Classes: Five winners will win a $100 gift card AND 3 FREE Craftsy classes!
Mystery Boxes ($200 value each): Two winners will win a mystery box filled with $200 worth of supplies for a craft of your choice!
Register or sign into your Craftsy account to enter!
The more entries they receive the more prizes are unlocked!!