Martha Stewart Knit N Weave Loom Sale!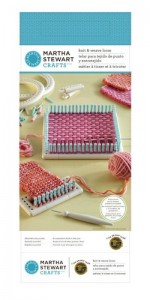 Back to my roots here! I started up knitting again in my adulthood by loom knitting! This is a loom knitting set that I use and love, and it happens to be on sale at Blitsy at a great price $26.67… who knows where they got the .67!!
Here is the description:
Compact enough to take anywhere, the Knit & Weave Loom Kit makes knitting and weaving easy for both beginners and pros. Use the included instructions to create scarves, hats, blankets, and crafts, or explore other possibilities on your own. Knit & Weave Loom Knit includes: (2) 36-hole straight pieces, (2) 28-hole semi-circle pieces, (4) 12-hole straight pieces, (2) 10-hole U-shaped pieces, (4) 6-hole straight pieces, (4) 6-hole corner pieces, 206 small-gauge pegs, 104 large-gauge pegs, knitting tool, weaving tool, crochet hook, small and large yarn needles.
Loom knitting is a great way to get kids into yarn crafting, and to keep a person who has mobility issues with their hands in it!
Ends at midnight tonight!! eeks!