WEBs 40th Anniversary Sale!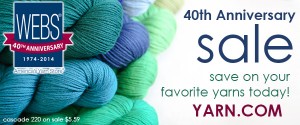 A sale that was 40 years in the making! Need I say more? Well ok, I really do like Webs, they always seem to have yarns in stock even though others may not! There is also a sweet custom yarn from Lorna's Laces special to celebrate this anniversary! Can I get a custom yarn for my anniversary? Hmm we will have to check that out!
Anyway pop over to Webs and enjoy the savings!
Congratulations WEBs on 40 years! Hope you get at least another 40!!